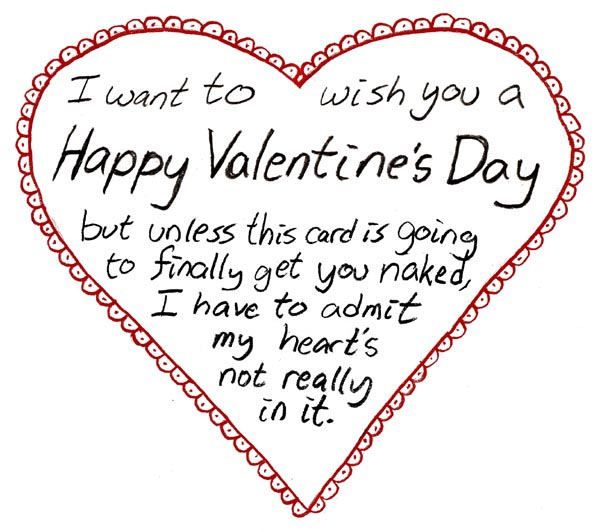 What a holiday. i mean, if you're with someone, you spend money on crap, if you're not, you feel like crap. But not me... cuz i got a valentine card in the mail today - from my grandparents (by the way - that's not it above. i just thought that was funny). So that'll hold me over for now. And to hold you over - some date-appropriate songs:
mp3:

Bruce Robison - Valentine

~ from Country Sunshine (2001)
A good little love song from the album that gave us 'Tonight' and 'What Would Willie Do".
mp3:

Old 97's - Valentine (live)

~ from Satellite Rides [Bonus Disc] (2001)
One of the 97's slower tunes - sung acoustic by bassist Murray Hammond.
mp3:

Steve Earle - Valentine's Day

~ from Together at the Bluebird Cafe (2001)
If you like folk/country music and don't have this album, get it now. Recorded live in '95 (15 months before Townes's death), it features Steve, Townes, and Guy Clark's best material performed with some great banter in between. Valentine's Day is a re-creation of a gift Steve gave his wife one February when he had nothing else to give.
mp3:

Ryan Adams - Oh My Sweet Valentine (live)

~ bootleg from The Exit/In in Nashville (10-28-99)
From one of a couple RA bootleg shows from pre-Heartbreaker times that i have, Oh My Sweet Valentine is one of Ryan's unreleased tracks that, how i'll never understand, never made the cut for an album. The acoustic show features some gems like Hey There, Mrs. Lovely (which was re-worked and turned into These Girls for Easy Tiger - 8 years later) and Onslow County - one of Ryan's many hometown-inspired tunes. The omnipresent Gillian Welch joins Ryan on stage for a couple great tunes including Helpless, Dancing With The Women At The Bar, and her own The Revelator.
**you can get the whole show here at Archive.org - as well as a shit-load of other good, live stuff.