Sigh.......... Kasey Chambers. What can i say? i think i fell in love even before i saw a picture of her. That somewhat squeaky, almost childlike, but damn sexy voice pulled me in. So i was pretty excited to find out that 1) she was gorgeous enough to match her voice and 2) she can write/make some amazing alt-country music. Just as a fair warning, this post will contain more pictures than most simply because i like to look at her.
This Australian chart-topper has conquered the land down under (every one of her albums has gone at least platinum there), and in the right circles over here, she's just as well-respected. Kasey grew up in a musical family. Her mom (or should i say 'Mum') and dad were both musicians. Shortly after her birth, the family (including older brother Nash) set out every summer for the remote Nullarbor plains of South Australia to live off the land and fox hunt. There her parents instilled the deep country roots that still ring in her music today by playing songs around the campfire.


At the age of 9, Kasey and family moved back to civilization and formed the
Dead Ringer Band.
Naturally, Kasey took the role as lead singer. The family band put out 4 albums and recieved considerable success in Australia before Kasey took off on her solo career.
mp3:

Dead Ringer Band - Sweetest Gift

~ from Red Desert Sky(1993)
In 1999, Kasey Chambers released her first solo album,
The Captain
, on Asylum Records. She took along Nash to produce and her father, Bill, who played lead guitar.
The Captain
won the ARIA (Australia's equivalent of the Grammy) for
Best Country Album
. Kasey also took down the award for
Best Female Artist
.
mp3:
Cry Like A Baby
mp3:
Last Hard Bible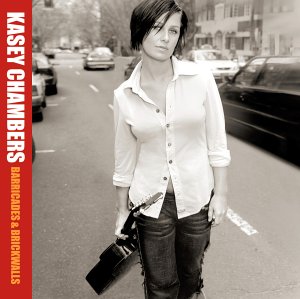 Her second effort,
Barricades and Brickwalls
, won Kasey the same 2 awards as her previous album as well as the one for
Album of the Year
for 2001. The album shows Kasey coming into her own as a solo artist and writing sole-bearing songs such as
Not Pretty Enough
and
A Million Tears.
These rockin', almost spiteful songs from the album are some of my favorites:
mp3:
Barricades & Brickwalls
mp3:
Crossfire
Wayward Angel
, Kasey's 3rd album released in 2004, went Platinum in Australia in the first week after its release. i normally don't like to post an artist's most popluar, overplayed song, but the vocals on Pony simply make me weak in the knees:

mp3: Pony
mp3: Bluebird



Carnival came out in 2006 and met the same success as her previous work. She didn't take down as many awards, simply beacause it was not listed as Country on the charts. Carnival definately has a different, more mature feel. Kasey now has two kids and the album has a lot of motherly inspiration.

mp3: Sign On The Door
mp3: Hard Road (with help from fellow Aussie Bernard Fanning)


Kasey Chambers continues to evolve with each album, while remaining to keep just enough of what makes her unique. With each effort, she blissfully combines emotional ballads, high energy rockers, and plunky bluegrass tunes. Kasey was one of the first artists that helped me to realize that good music can come from the most unexpected places.
----------------------------------------------------------------------------

Click the album covers to buy all of Kasey's albums on LoneStarMusic.com

----------------------------------------------------------------------------

Kasey Chambers and husband Shane Nicholson have recently finished work on their first collaboration album, Rattlin' Bones. The album is the first of Kasey's to be released (April 19th) independently - on Liberation. Their site says the it's a return to the duo's Roots Country background and from the songs you can stream on Kasey's MySpace, it sounds just like what This Mornin' I Am Born Again is all about.


Pre-order Rattlin' Bones here or on iTunes for a bonus track and booklet.